The All-in-One Company - A Celebration throughout the Years
As we celebrate our 13th Birthday, we're taking a look back at everything we've achieved in the past 13 years...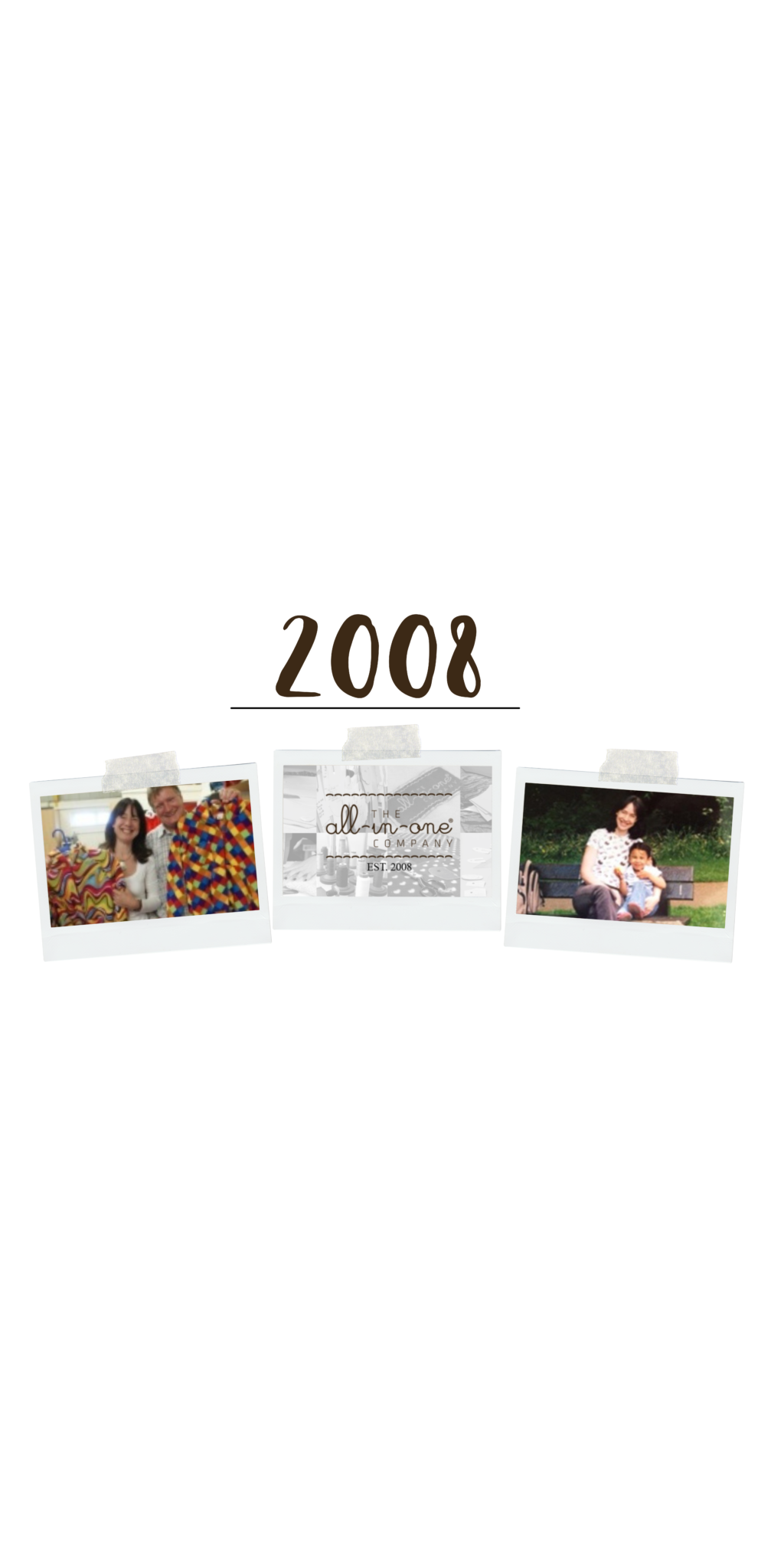 October 19th
The All-in-One Company was launched after Kate Dawson struggled to find sleepwear to keep her daughter Lilly warm at night
---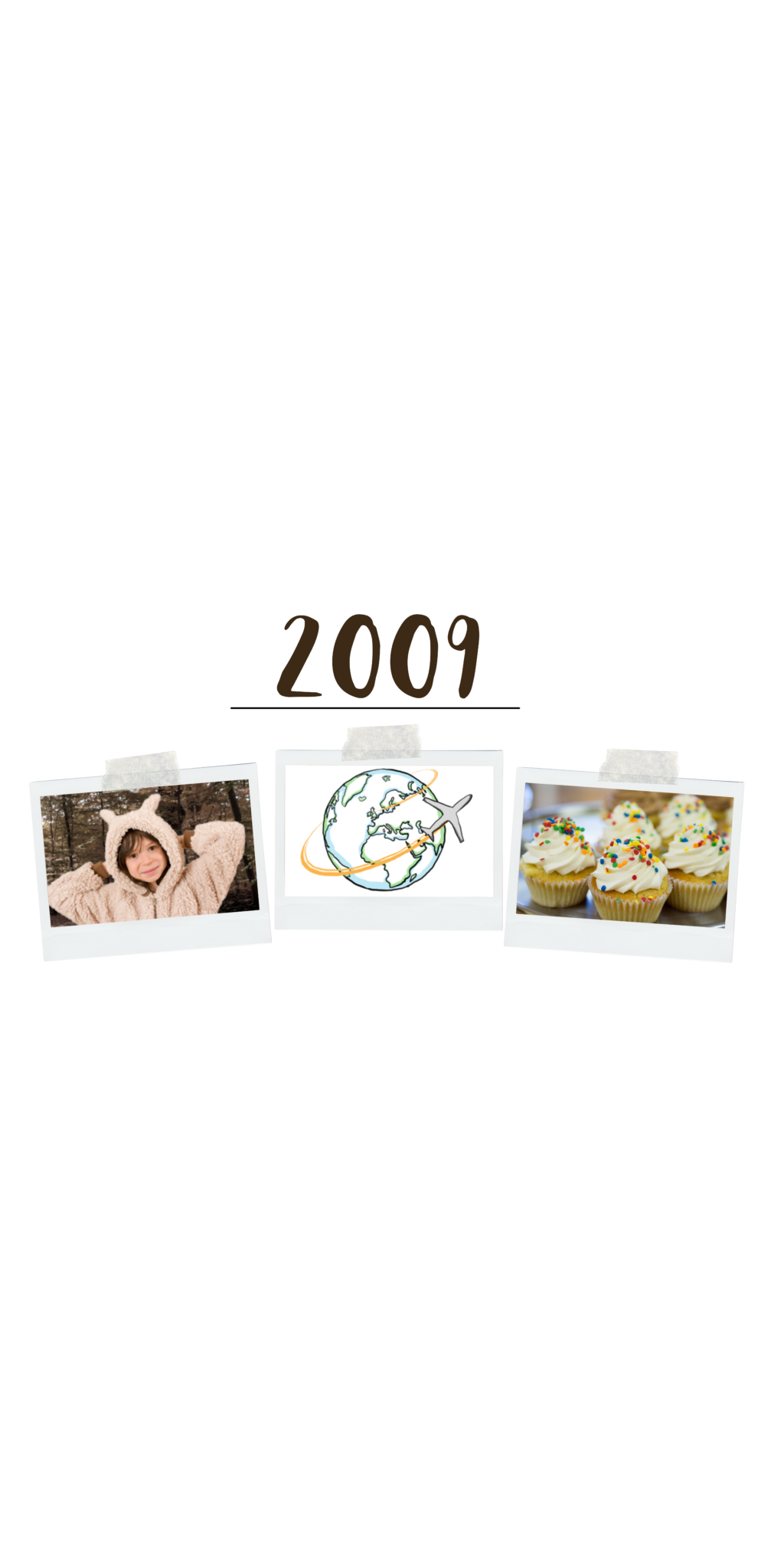 September
We moved into our first factory and become a team of 4
We feature in The Journal for our first press release
We have our first Radio interview on BBC Radio Newcastle
We've gone Worldwide! We start receiving orders from Canada, Australia and New Zealand
October
Winner of the Wansbeck Business Awards 'New Business of the Year'
We are 1!
December
Introduced our Max Suit
---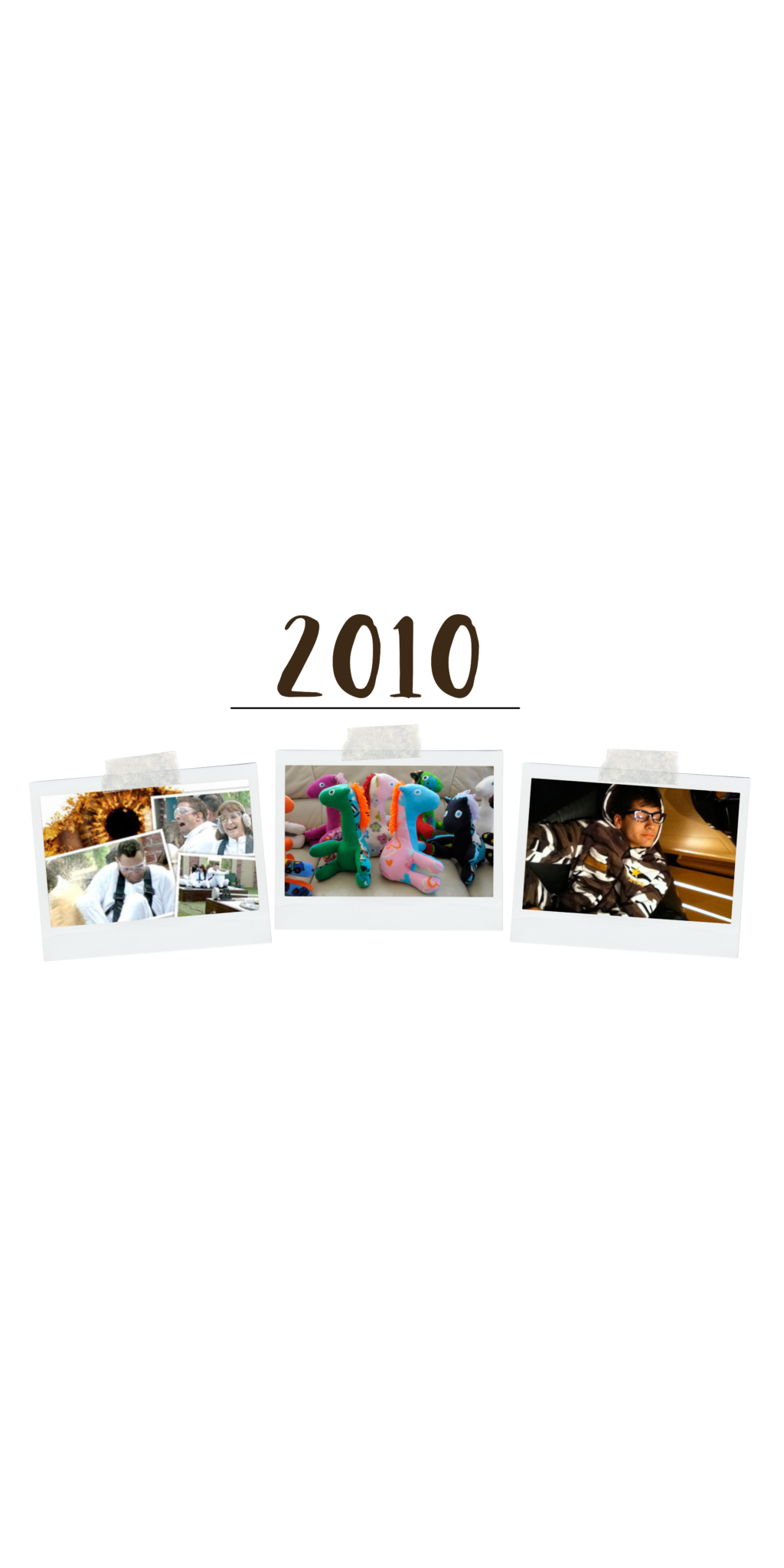 January
Became official suppliers of Celebrity Big Brother Onesies
Our Onesies were feature in a Holiday Inn promotion
We became a team of 6!
We had our second interview on BBC Radio Newcastle
May
Official suppliers of 'Where the Wild Things are' Max Suit Onesie
July
Donated our first bags of offcuts to Chantry Middle School for their Hugs for Hati campaign
We received a testimonial from Zoe Ball after her son wore one of our Max Suit Onesies
September
We launch our Teddy Bears
We feature in the Daily Telegraph
October
We turn 2!
December
One Direction are spotted wearing our Onesies after we supply them for the X Factor
Dame Evelyn Glennie wears Onesie on Mt. Kilimanjaro charity trek
---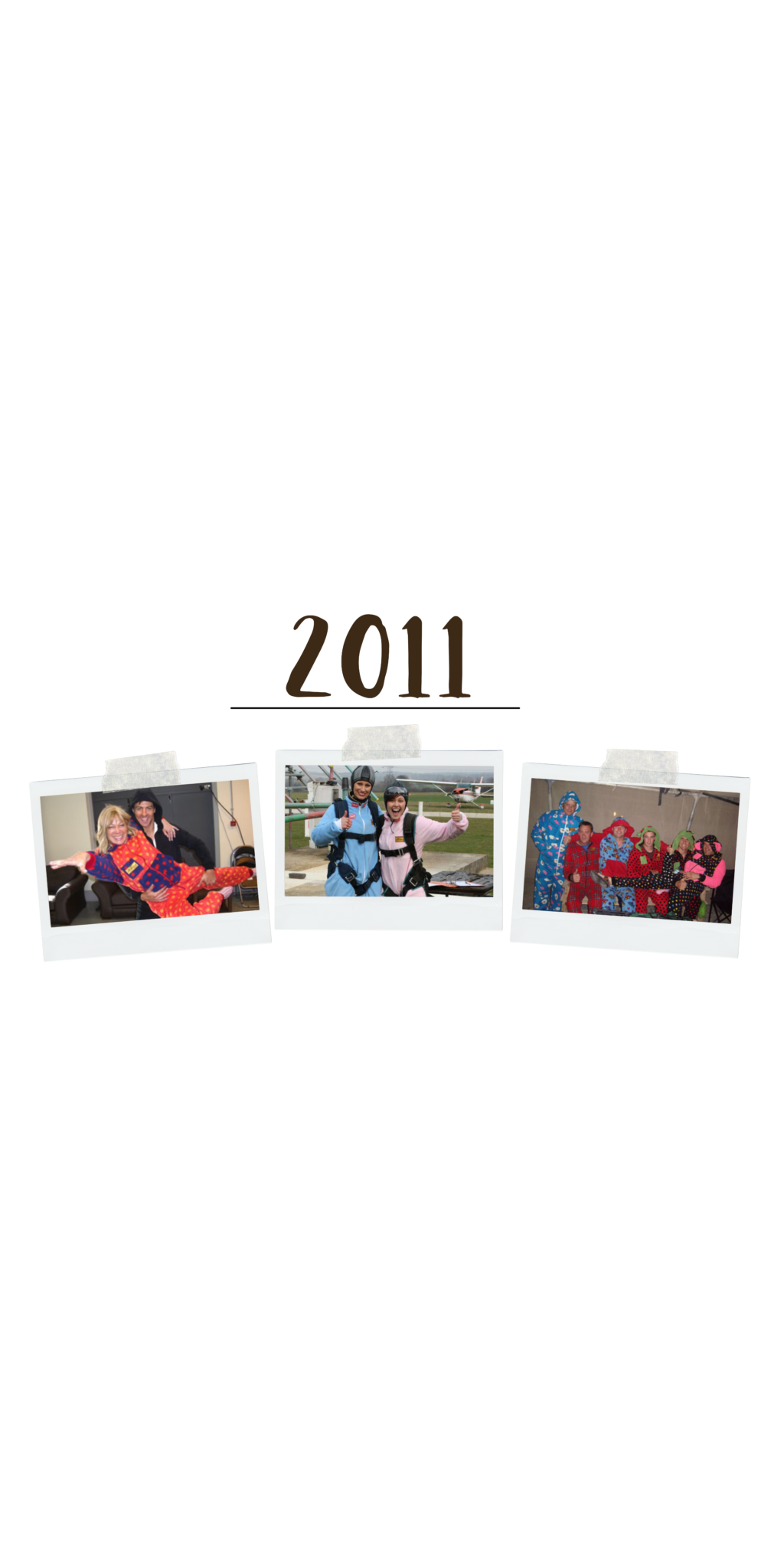 February
We launch our 'Waste Not, Want Not' Campaign and donate bags of offcuts to schools and charities
Michelle Bass wears an All-in-One Company Onesie
March
Dancing on Ice contestants wear All-in-Ones to keep warm backstage
April
We launch our Baby Builder
September
We feature in Rock, Paper, Scissors Magazine
October
We turn 3!
November
Heart Radio wear All-in-Ones for Charity skydive
Chloe Madeley spotted on ITV Daybreak wearing All-in-One Company Onesie
December
We donate Onesies to soldiers in Afghanistan. Article features on Sky News, Daily Mail, Daily Star, Journal, News Post Leader, The Sun
---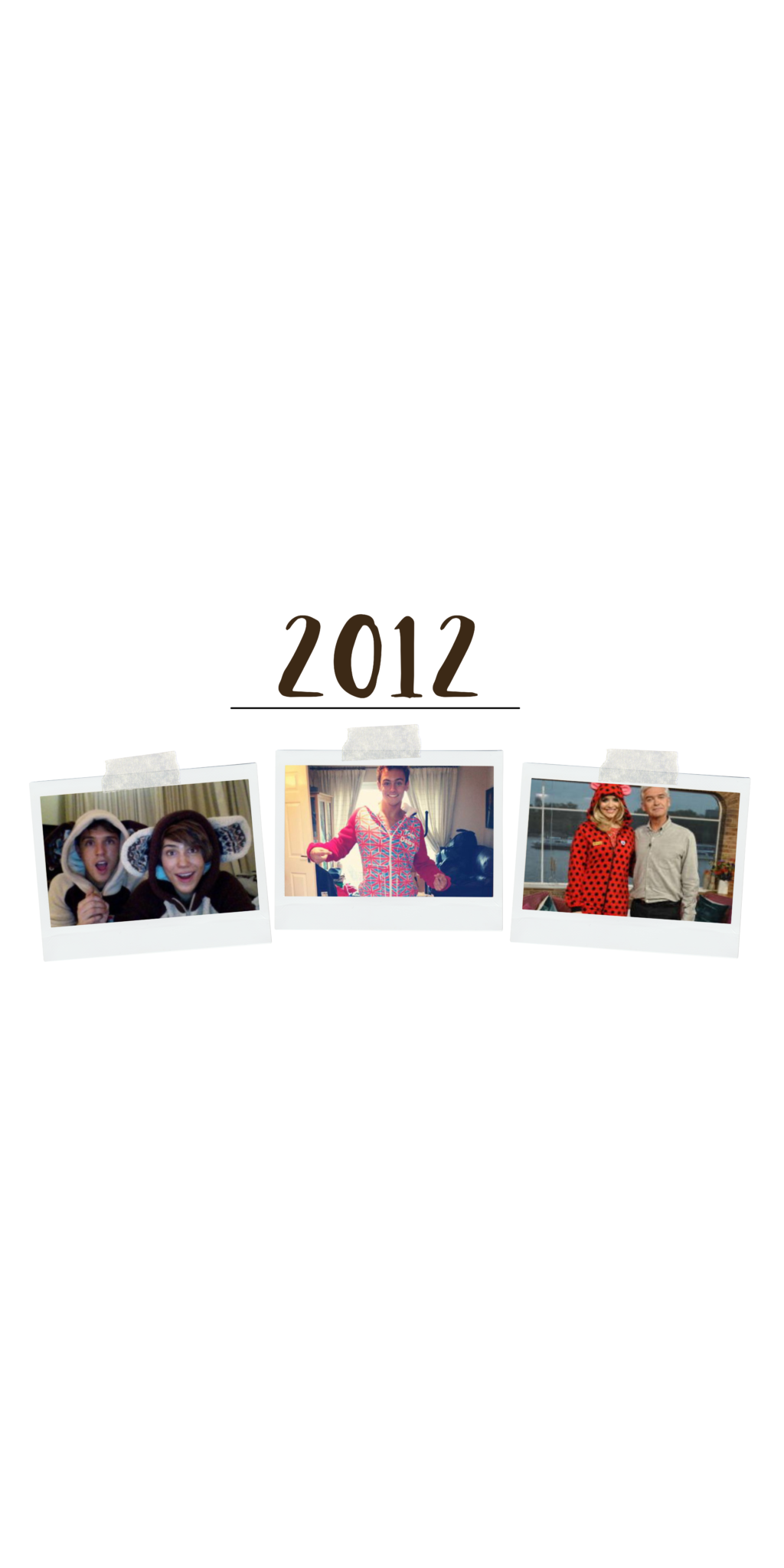 January
We donate offcuts to Bedes Academy for Kenya Acorn Project
Matthew Wright wears All-in-One on The Wright Stuff
Supplied Onesies to Celebrity Big Brother
February
Onesie reaches Antarctica to keep researcher warm
June
Our Onesies feature on Dulux advert
All-in-One featured as prize on ITV Family Fortune
July
Supplied Onesies to Big Brother
August
Supplied Onesies on Celebrity Big Brother
September
Capital FM presenters wear All-in-Ones presenting radio show
All-in-One Company take part in Race for Life in Onesie
Peter Andre Wears All-in-One
Tom Daley Wears All-in-One
October
Fearne Cottons wears All-in-One
Donate offcuts to help local business Pots and Pancakes
Bobby Norris wears All-in-One
Russell Kane wears All-in-One
We turn 4!
November
Onesies featured on CBBC Show
Holly Willoughby wears All-in-One on This Morning for Blue Peters Go Pyjamas campaign
Union J wear All-in-Ones
Onesies featured on Blue Peter and break world record
Onesies featured in Reveal Magazine
Union J wear onesies on X Factor
Capital FM's Anna Harding wears onesie
Metro Radio's Stu and Kelly wear All-in-One
Union J trend worldwide on twitter wearing their onesie
December
Lingerie Insight Magazine feature Union J onesies
Featured in Global Cool's article
Princess wears onesie on Peter Andres TV show
Holly Willoughby onesie featured in Look Magazine
---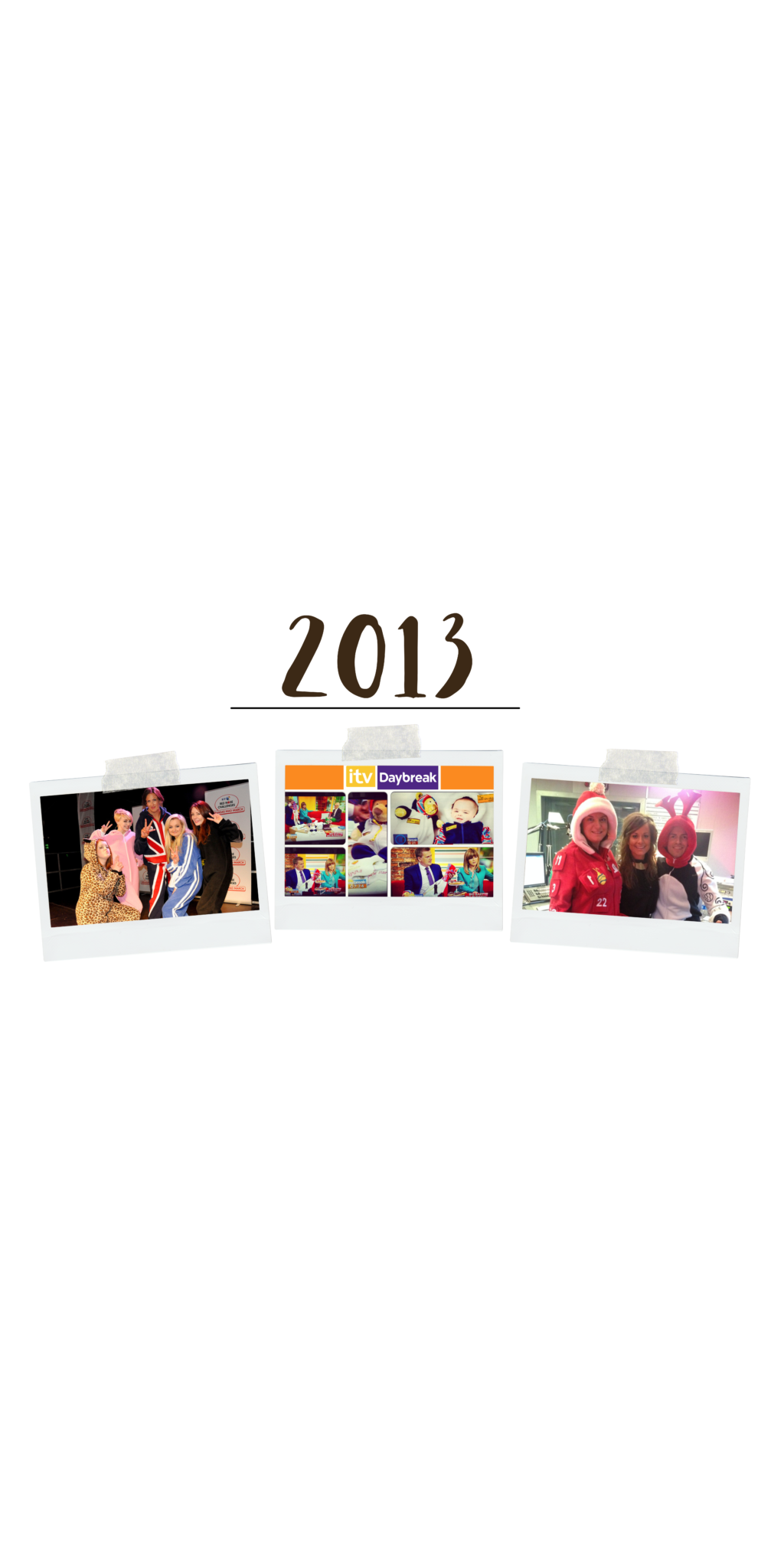 January
Jade Jones, Gemma Gibbons and Katherine Driscoll wear all-in-ones
Interviewed on Capital FM
Lauren Goodger wearing onesie in OK Magazine
Leandro Penna orders a Onesie
Dani King and Laura Trott wear onesies
Jessica Varnish orders Onesie
February
Dancing on Ice Onesies featured on Celebritain
Russell Kane featured wearing his onesie in London Evening Standard
Supplied Onesies for Dancing on Ice
Onesies featured on Mail Online
Joanna Rosewell wears all-in-one
Onesies featured on Daily Mail
Team of 21 woohoo
Danni Harmer orders all-in-one
Dancing on Ice skater featured in Closer magazine wearing All-in-One
Dancing on Ice Onesies featured in Reveal Magazine
March
Danni Minogue and BINTM do harlem shake in onesies
Kieron Richardson wears all-in-one
Supply Onesies for Miranda's Mad March for Comic Relief
Miranda's Onesie featured in the Guardian
Win Internet and ICT Award at North East Business Awards
April
Union J onesies feature in Teen Now Magazine
Junior wears onesie on Peter Andre's TV show
May
Onesie featured in Farmers Weekly
Jun
Featured on BBC Look North about Apprenticeship schemes
July
Onesie Lunge with Joe Tracini
Royal baby onesie featured on Daybreak
September
Featured in Bliss Magazine
Featured in Closer Magazine
Visit from MP Ian Lavery
Featured on Sky Tyne and Wear
Featured in LUXE Magazine
October
We turn 5!
Ian Lavery re-visits The All-in-One Co
November
Working with Northumberland college to create bespoke Apprenticeships -
We Launch our APP
Win Northumberland Business Training Award
Win the Woman Entrepreneur of the Year Award
Link up with Metro Radio's Steve&Karen for the ultimate Christmas Onesie
Featured in the Journal
Featured on Now Daily
On Steve and Karen's Breakfast Show
Featured in the Express
Featured in North East Times – The Womens Issue
December
Featured on Sky Tyne and Wear
Tanya Burr features Onesie on Youtube video
---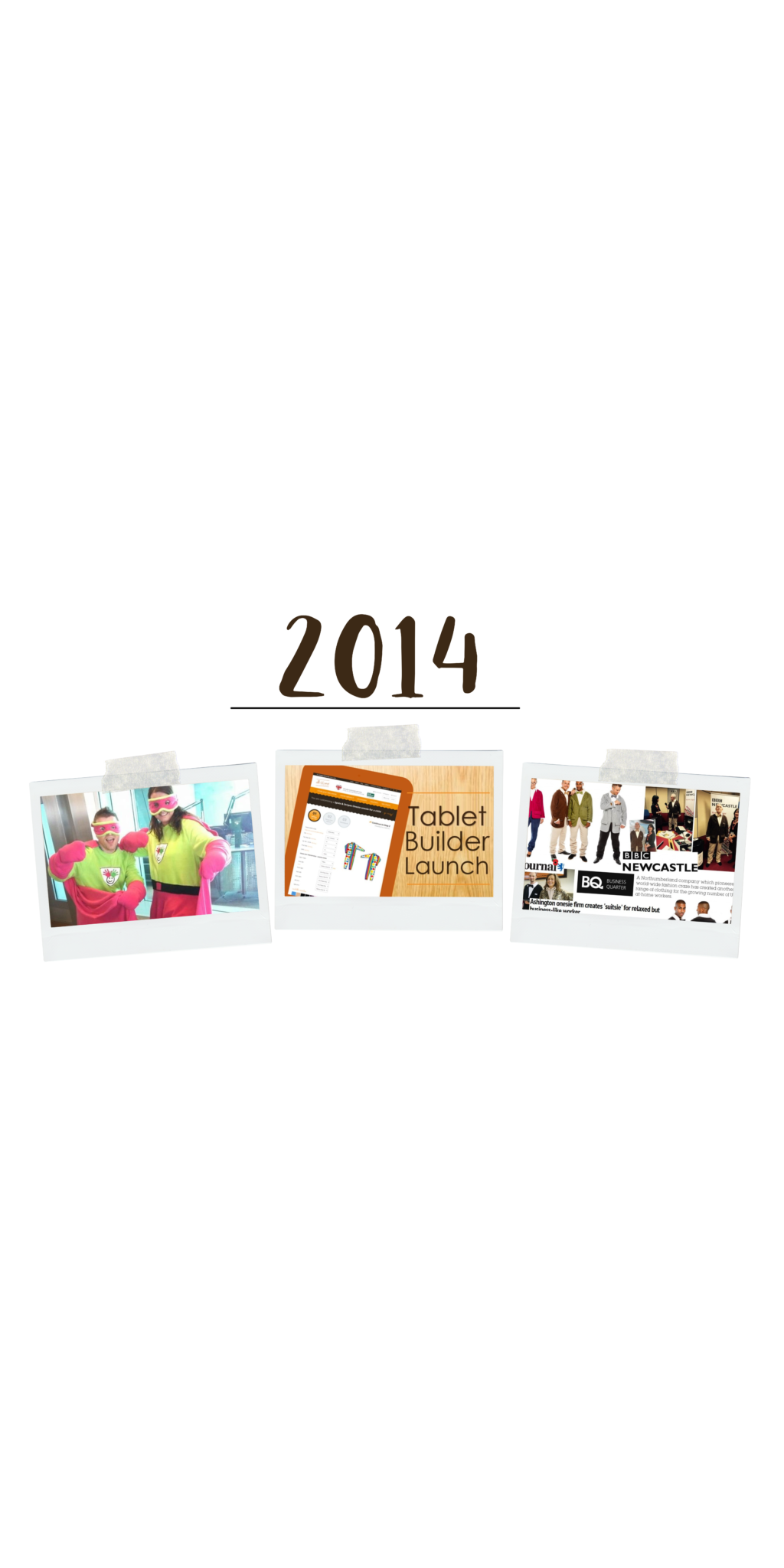 January
Supplied Onesies for Celebrity Big Brother
Linked up with Gransnet
Featured on Anthea Turners website
March
Edith wins Employee of the Year Glass Slipper Award
Featured in the Chronicle
Linked up with Mumsnet
Featured in the Journal
Linked up with McCain Foods Australia
April
Attend Trading for Good Launch
The face of Start your Business Event
May
Made Super Hero Onesies for Metro Radio Cash for Kids Superhero Day
Donated bespoke onesie to Newcastle United Foundation
Kate speaks at Make it British
Supplied Celebrity Big Brother Onesies
July
Visit from Torsten
August
Capital FM's Bodge, Matt and Jojo wear All-in-Ones
Launch the Tablet version of our builder
September
Giovanna Fletcher orders for Son Buzz
Teamed up with Northumberland College on a Photography project
Kate was keynote speaker at FIPI Annual Conference
October
We turned 6!
Tuxsie/Suitsie is launched
Linked up with Ready Brek
November
Suitsie featured in the Journal, BQ, and Radio Newcastle
Linked up with Netmums
Linked up with Waterbabies
Hoodsie is launched
Wedding Onesie is launched
---
March
Maternity Onesie is launched
New builder launch responsive on desktop, mobile and table
April
Grey Fox Blog wears Suitsie
Moved into our new Factory!
May
Team up with Toby Lee
Oct
Speaker at Insider's 'Doing Business in Northumberland' Breakfast
We are 7!
November
Featured in News Post Leader
December
Kate becomes a member of the Meet the Manufacturer Advisory board
Featured in Drapers Magazine
Donate blankets to help homeless
---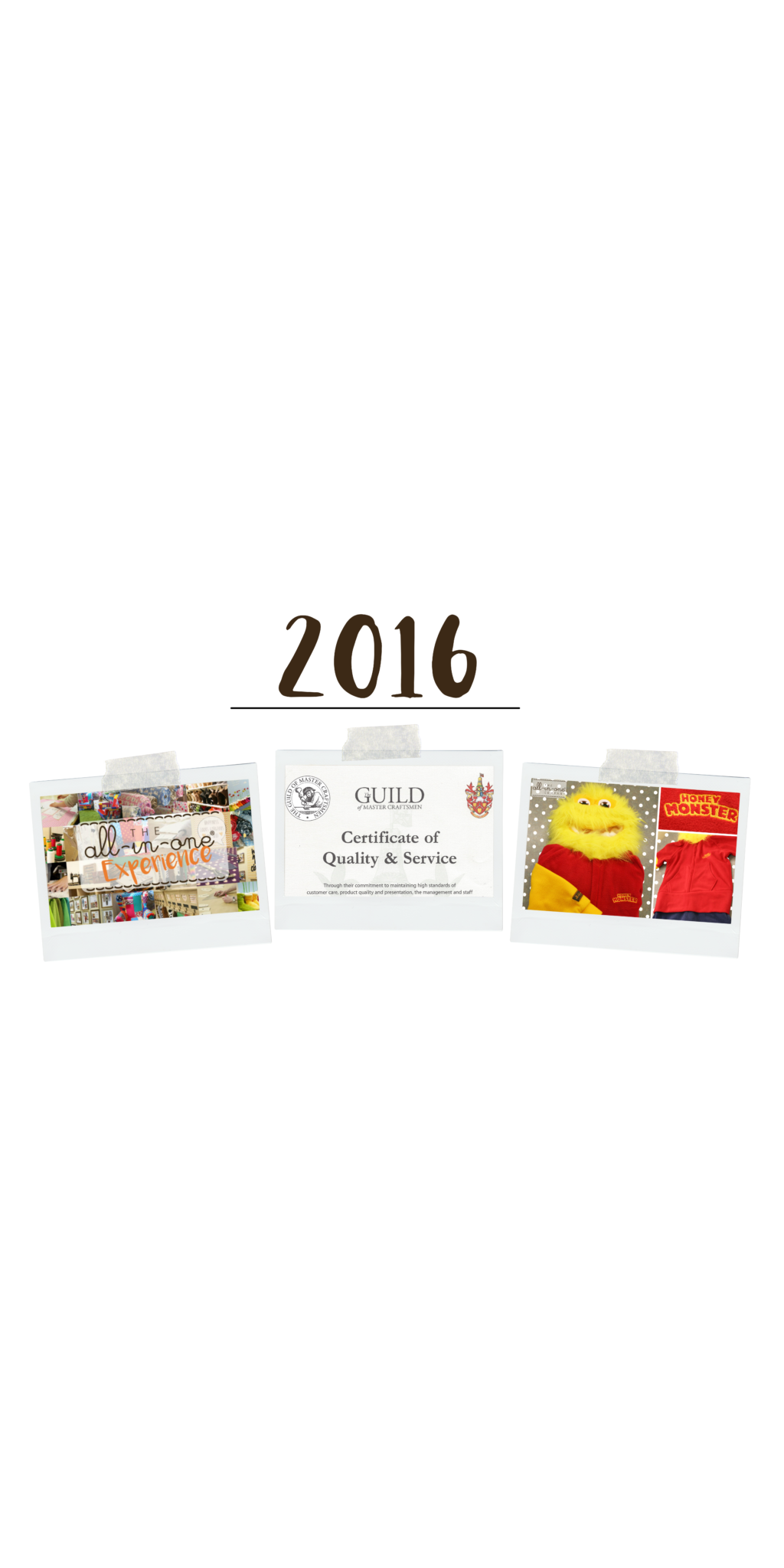 January
4.9 out of 5 stars on eKomi!!
Feb
Donate blankets to SHAK
April
Members of the Guild of Master Craftsmen
Link up with Honey Monster
We launch The All-in-One Experience
May
Featured on NE Connected
October
We are 8!
November
Link up with Mackies
Phillip visits TAIOC from Australia
---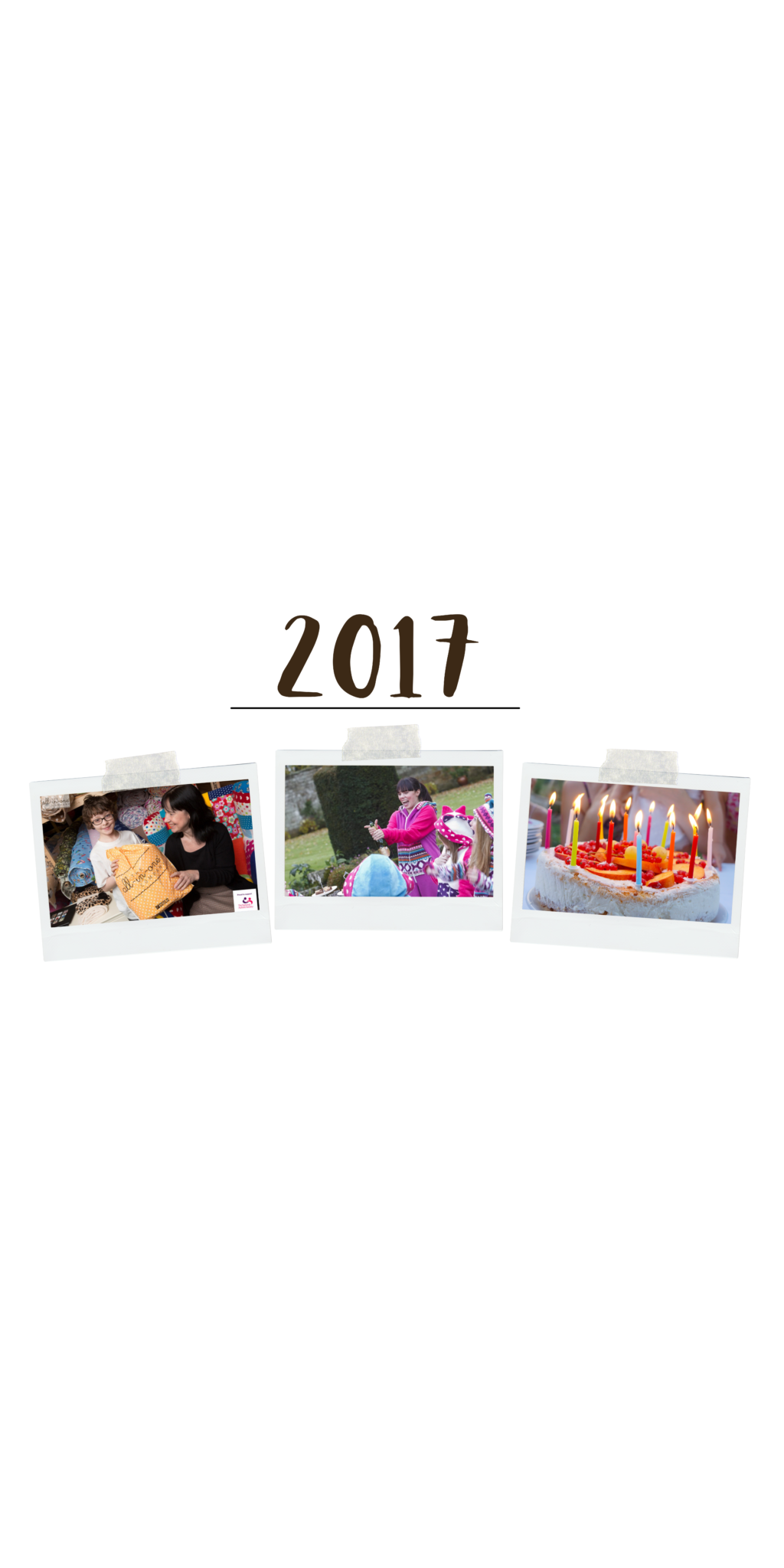 March
We launch our Sensory Onesie
Launch of our new Service options
October
We are 9!
---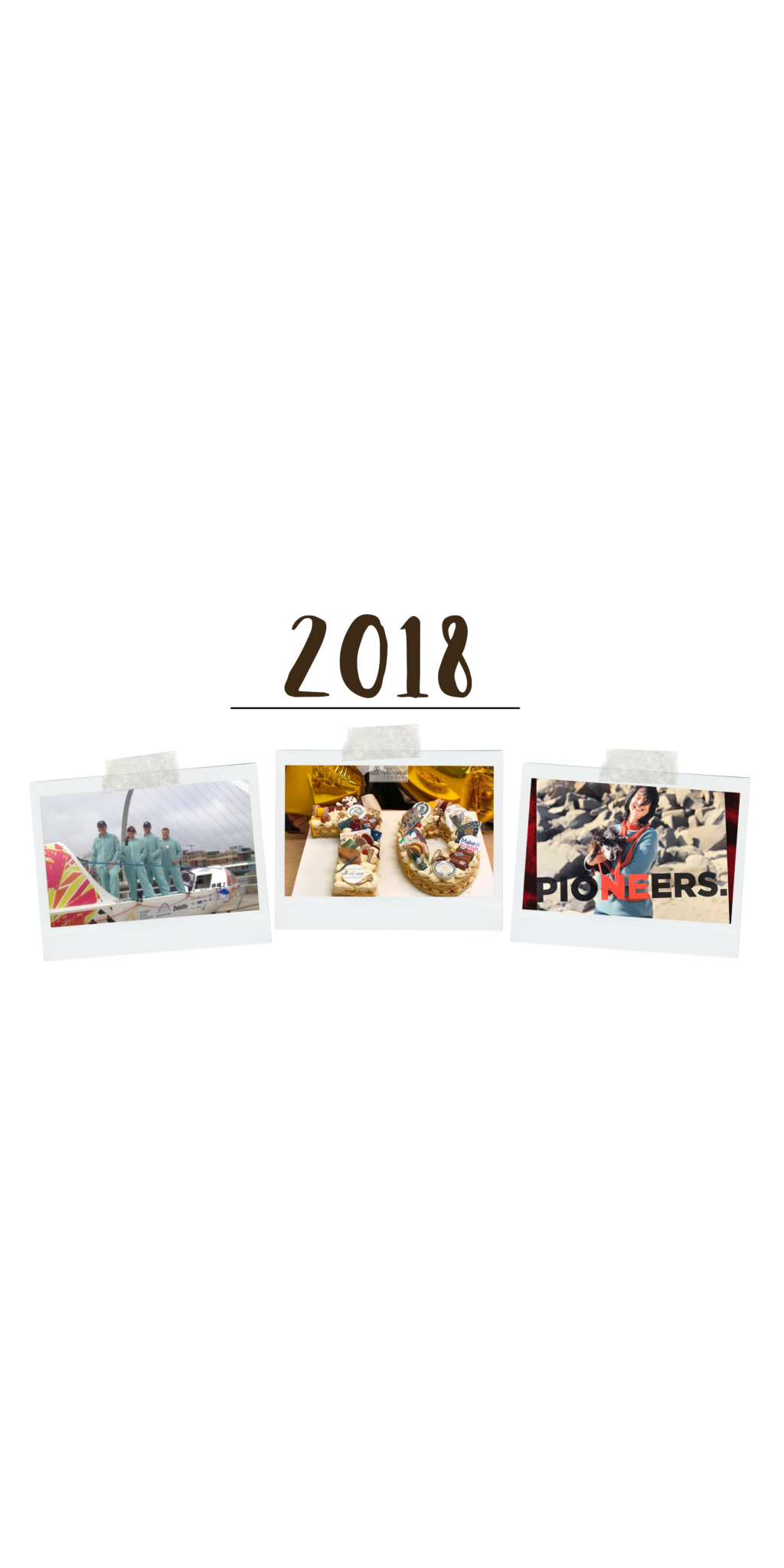 March
We linked up with First Face to Face and North Tyneside Learning Trust, Industry Sparks
April
We expanded our standard sizing range to 0-3months - 5XL
May
We make bespoke Onesies for Westminster School's annual Ski trip
June
We support Phil Kite and his team, Team Tyne Innovation by making bespoke Onesies to keep them safe and warm as they take on The Talker Atlantic Challenge.
July
We attend the Creative Fuse North East conference for the reveal of our Virtual Catwalk reveal.
We attend Team Tyne Innovation's Ocean rowing exhibition to see Phil and his team on board their Atlantic Rowing boat in their onesies.
We are part of the North East Design Quest with our very own exhibition at Northumbria University.
August
We team up with Action for Children's Byte Night to help raise money and awareness
September
Kate features in Always Wear Red's Do Your Thing campaign. Kate was photographed and featured in the PIONEERS Portrait photography exhibition.
October
We receive a visit from Phillip, a member of the All-in-One family from all the way over in Australia!
We turn 10!
December
The talented Simon Bourne from the Hand Dyed Shoe Company visits the factory and designs onesies with his family
---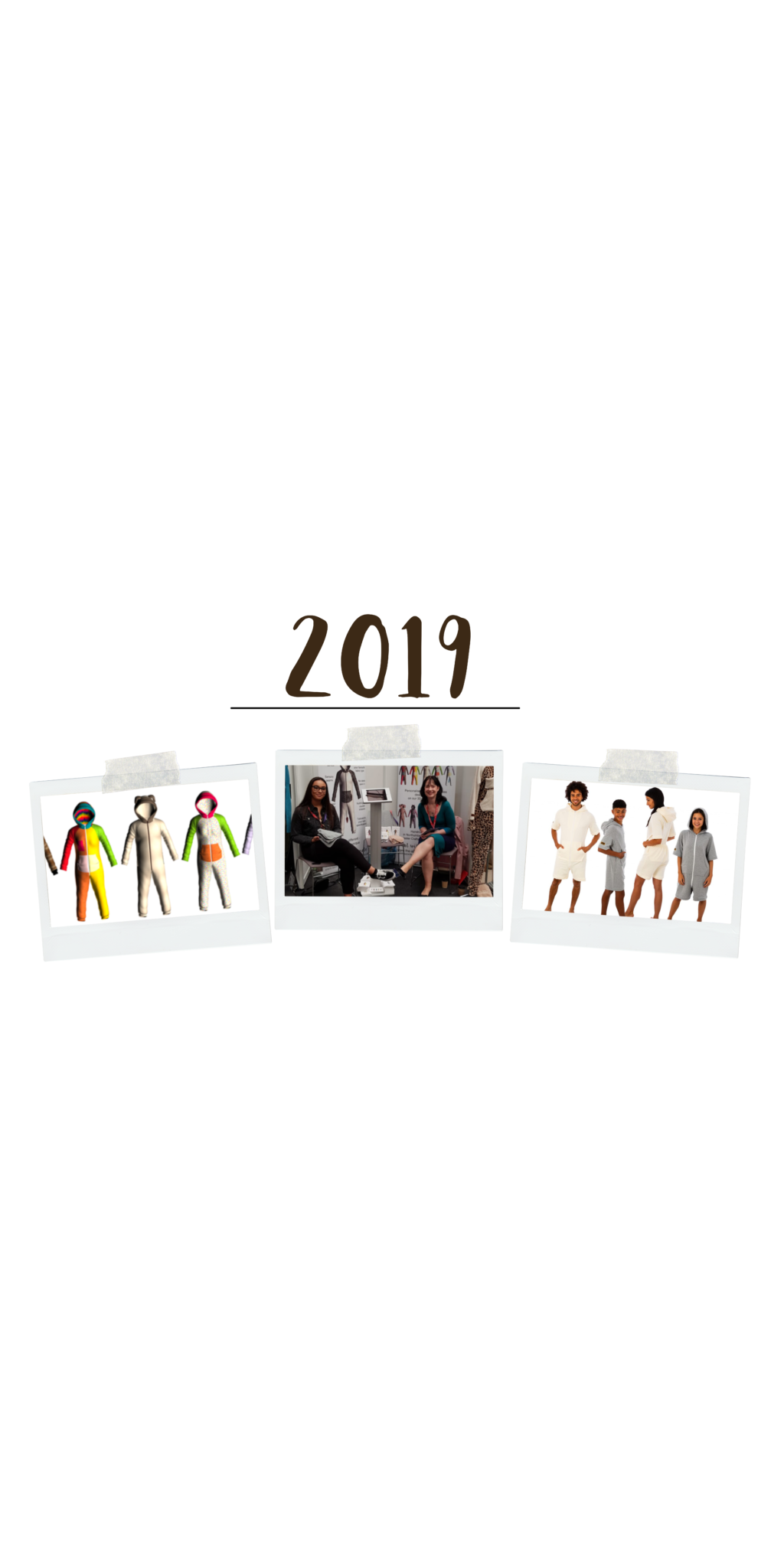 January
After watching a heartbreaking documentary on Channel 4, we begin making Onesies to be donated to Baby Banks and Womens refuge's.
We make our first big donation to Stripey Stork
We feature in Living North Magazine
February
We make our first donation to Baby Bank Hartlepool
We receive a visit from Love of the North and feature on their blog
March
We make our first donation to Reigate and Banstead Women's Aid
We make our first donation to Making Winter Warmer for those Without, to help keep rough sleepers keep warm
April
For the second year running, we make onesies to keep Westminster School's teachers and pupils warm during their annual ski trip
May
We launch our new website AND 3D onesie builder
We return to Make it British Live, this time, our very own Kate is a key speaker!
June
Mel B is featured in the Daily Mail after being spotted her bespoke leopard All-in-One Company onesie.
We launch our TLC Service - so you can repair your Onesie, rather than replace
Kate attends the Thrive Networking Lunch
Students from John Spence Community High School visit the factory to find out about opportunities in the industry
Kate's daughter Lilly joins the team, completing a Level 3 apprenticeship in Digital Marketing
August
We launch our Short Summer Onesie
We make our first donation to County Durham Community Clothing Bank
September
We launch our Concierge Service
We feature in the Sunday Times Travel magazine
October
We are 11!
November
Our Thank You cards are now printed on 100% recycled and carbon balanced card
---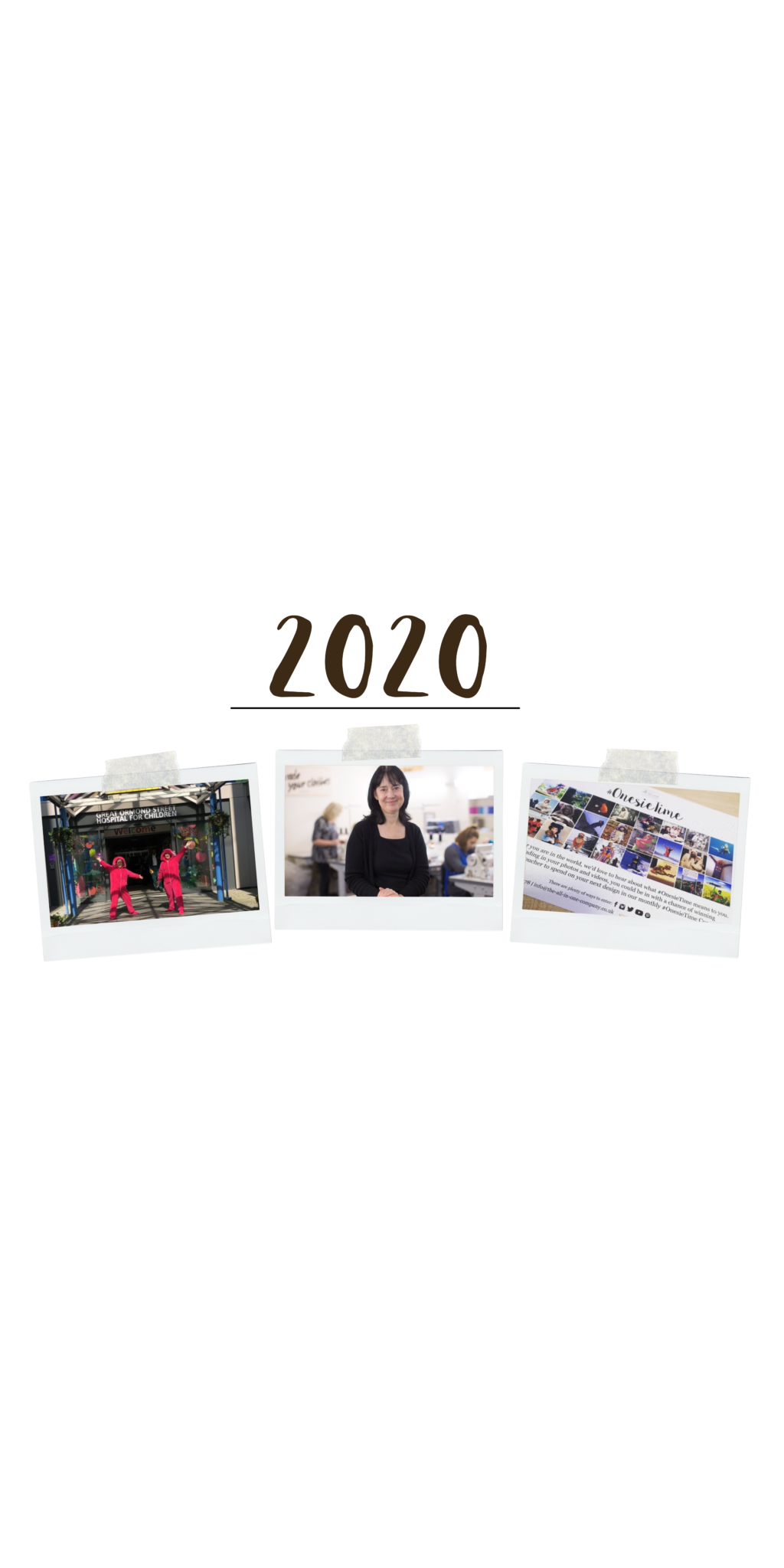 January
Kate becomes the newly-appointed enterprise advisor at James Calvert Spence College
March
Due to COVID-19 our marketing team begin working from home, and our production staff begin to work alternate days. We are able to remain open under the governments guidance
We supply another bespoke batch of onesies for Westminster School's annual ski trip
We donate Onesies to Great Ormand Street Hospital
April
As the COVID-19 crisis continues to worsen, we make the decision to close the factory to keep ourselves safe
We set up Scrub Hub Ashington, making scrubs from home for our fabulous key workers
May
We return to work to continue hand making your creations, sticking to government guidelines, keeping 2 metres apart, having team meetings over zoom and working from home as much as possible
July
We link up with Swish for It
October
We Turn 12!
November
We've gone compostable! Your onesies are now packed into our computable bags
December
Our very own Kate Dawson is awarded an OBE for her services to business!!
---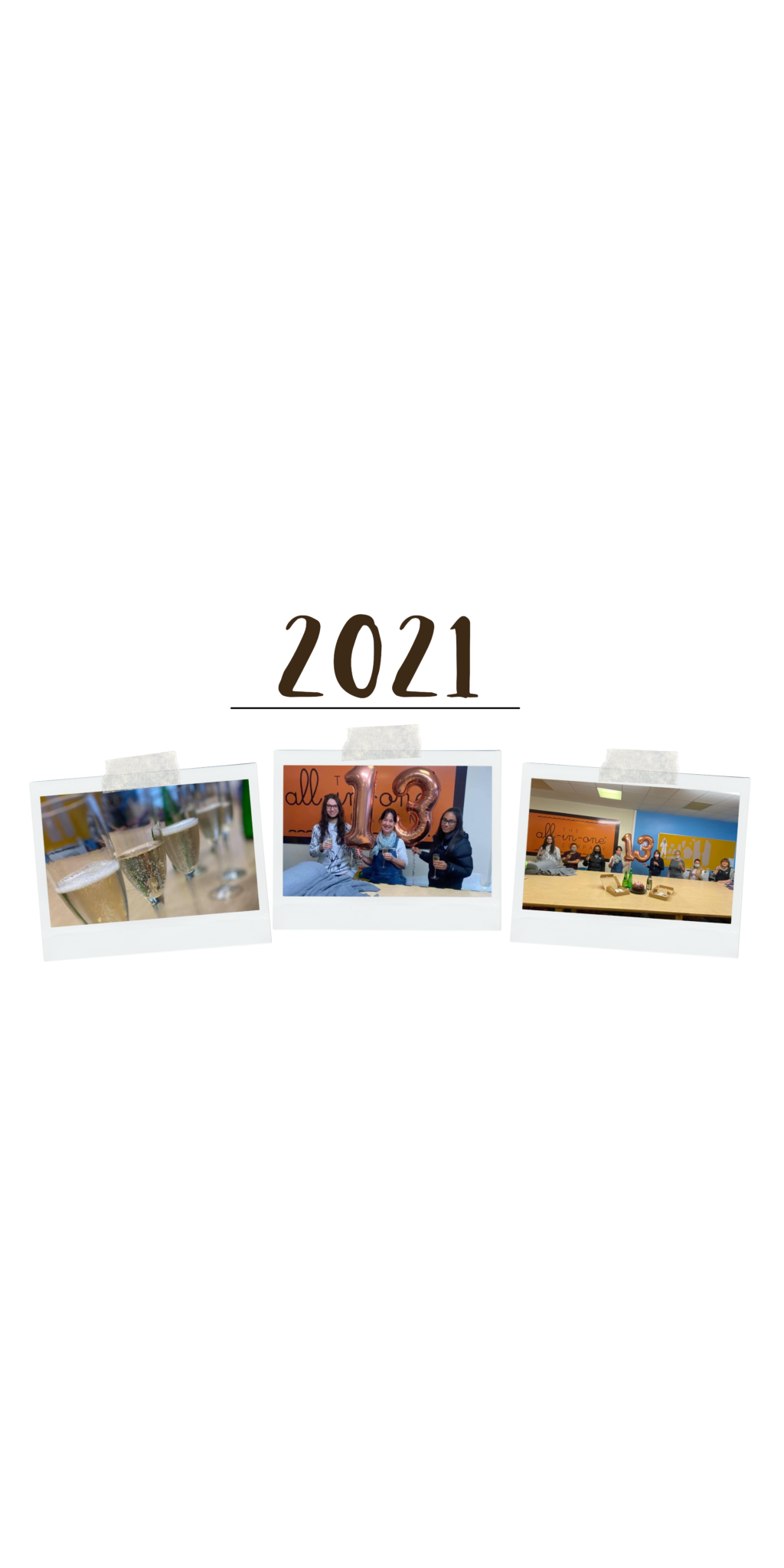 January
We begin the new year socially distanced on split shifts and on part time furlough
March
We support Autism Awareness week by doubling our Sensory Onesie donations from 5% to 10%
June
Kate is invited to the Royal box at Wimbledon championships
October
Here we are... 13 years old, and still continuing to hand make your amazing creations.